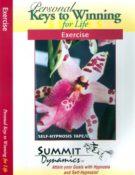 With this script, your client's everyday motivation and desire to exercise will increase. They become more motivated for whatever exercise program they choose. Every time they listen to this script they feel better and have an increased supply of energy. They no longer procrastinate or make excuses for why they can't exercise. They commit themselves to a regular and healthy exercise program.
Upon successful checkout, you will be provided a link for immediate download of this document in PDF format.
About Summit Scripts
These scripts are intended for professionals and training hypnotherapists. They are intended to be a useful resource for ideas and approaches to use with clients but we do not recommend using them verbatim as each individual is unique and the script should be tailored toward each client. Each script was written and tested by Laura King, CHt, Life NLP Life Coach with her personal clients.
Disclaimer
Hypnosis is not a substitute for medical attention and is not intended to treat or diagnose. Statements or products from his website are not intended to diagnose, cure, treat or prevent any disease or illness. When dealing with any type of mental or physical illness or disease, always consult a qualified therapist or physician.
Copyright
These scripts are copyrighted. No portion of this publication can be reproduced, copied in or sold any way, (except for personal use) without the written consent of Summit Hypnosis & Wellness. By purchasing this script you are given the rights to use for recording CD's or for one-on-one with your clients.