Drive Your Practice to Success by Becoming a Certified Golf Specialist
Tap Into One of the World's Largest Sports Markets
Presented by Laura Boynton King, CI, BCH
With an estimated 26 million golfers worldwide and growing every year, isn't now the time that you tap into one of hypnosis' largest markets? Everybody golfs and it is one of the only sports in the world that covers such a diverse demographic of players. Not only is there an enormous market for golfers but golfers consistently spend large amounts of money every year to improve their per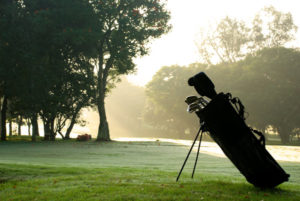 formance. With sports psychology on the rise and an increasing emphasis placed on the mental aspects of the game, services like hypnosis are becoming a staple in many golfers' game much like their regular lessons with a club pro. This is your opportunity to drive your business to success as a golf specialist and create the lucrative practice you have always desired.
Working with golfers is not just profitable it is actually easier than working with most other presenting issues. The very best thing about working with golfers is their attitude coming into the office as well as towards success. In my experience, clients that want to make behavioral changes like smoke cessation or weight reduction often come into the sessions with resistance or worried about changing, but not golfers.
Golfing clients come to your office motivated, excited, and ready to improve. More often than not they have no resistance and typically will follow through with everything that you ask of them. Most golfers that you will work with are fanatics and will do everything possible to get the most out of the sessions. This winning attitude makes it easy to create success with golfers. Isn't it time to begin working with such highly motivated and driven people?
On a selfish level, becoming a golf specialist will help you to improve your own score on the golf course. The techniques you will learn in class will not only help your clients but can easily be applied to your own game for success as well. You will learn how to think and perform like a pro on the course so that when the class is over you too will be dominating on the golf course.
Whether you want to grow your business, work with motivated clients, or improve your own skills it is time to become a certified golf specialist.
Golf is a mental game that is played by more people than any other sport…imagine the potential for business!
You Will:
Discover the "Optimum Performance Mode" & how to get golfers to consistently play in the zone
Learn Anchoring strategies that increase swing performance, boost confidence, and overcome negative emotions on the golf course
Learn an in-depth analysis of the mental attitudes of elite golfers compared to the average golfer and how to use hypnosis to implement the mentalities of the pros
Simple ways to increase a golfer's level of focus on the golf course and ways golfers can boost their focus at home.
Discover the ultimate pre-shot routine to activate the subconscious mind for success on the shot and the missing element that is guaranteed to improve performance
Increase shot accuracy by learning the mental tricks of targeting shots
How to use relaxation to transform a golfers swing
Different visualization strategies and how to determine your golfers' mental swing signature
The foundational skills to help golfers of all skill levels
Agenda:
Introduction and objectives
Learn the benefits for using hypnosis and NLP for golf
Using the tools for peak performance
Learn to create a golfers mind set
Use tools for natural talent for your clients
Learn the 6 keys to help golfers improve game
Exercises for releasing past failures and to build a future road map for peak performance
Make a customized plan and process for clients to follow to achieve their goals
Hands on practice and class demonstrations
You Will Get:
The Golf Specialist Certificate Course comes with a workbook that is full of valuable resources. The workbook contains:
Hypnosis Scripts effective for increasing confidence, enhancing focus, swing improvement, and putting success.
Golfer Intake Form which makes it easy to discover problems, weaknesses, or areas of improvement.
Famous Quotes from professional golfers to use in presentations.

 PowerPoint Slides – All PowerPoint presentations will be printed out for easy reference and not taking.

*BONUS a copy of Laura's Awesome Golf Now Book

** BONUS Technique: Using the pre-shot technique

Who Should Attend?

The Golf Specialist Certificate course is perfect for any hypnotist who loves golf, helping people succeed, and growing a lucrative practice. The only prerequisites for this course are your love of hypnosis and desire to have fun everyday working with clients. This course will teach you step-by- step the necessary skills to be successful with golfing clients. Tapping into this market is your ticket to success and prosperity.

Testimonials

"Laura is practical and straight to the point. Her presentation is very well planned and covers all the bases. Excellent." – Roberta Fernandez

"Laura is exceptional – the best workshop, seminar, course I experienced during the whole convention. Her presentation, thoroughness, personality – so engaging, enjoyable and informational. Loved it." – Michele Golinski

"If you really want to be your best, this is the course to attend." – Bharat Karajgi

"Came away with the confidence I need to embark upon my golf hyp- nosis practice! Laura King is amazing.!" – Adam Goldman

"Highest caliber presentation and information. Laura's energy level, sincerity, knowledge and professionalism are a force of nature!" – Richard South

Course #224

Mon- Tue, August 15th – 16th

*Tuition: $375

Session begins at 9am

*All participants registered for the full NGH 2016 Convention are eligible for a $50 discount on each Pre/Post course