Guest Radio Show Appearance: Changing Direction with Michele Rosenthal
Laura King has been scheduled to appear as a guest on CHANGING DIRECTION with Michele Rosenthal. If your life has gotten to a point where things feel stuck, stalled or just plain wrong it's time to think about CHANGING DIRECTION! This 30 minutes weekly program covers a wide spectrum of topics designed to help you turn yourself around and get headed in the right direction. With guests from backgrounds that include self-help, mental health, trauma, motivation and inspiration, author/speaker/coach/survivor Michele Rosenthal interviews experts and everyday people about what it takes to change direction and how you can get the job done.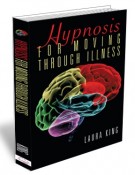 Laura will be on the show this Wednesday, 5/22, to talk about her new book, Hypnosis For Moving Through Illness, and using hypnosis to heal your mind and body.
You can listen in to the interview via your computer or phone. Just follow this link for info. You can also call in with your comments and questions:  347-324-5164
If you miss the show, you can access the free downloadable archive.
For more information about the program visit: http://www.changeyouchoose.com/radio/guests/