Many of the most successful people, from professional athletes to wealthy business people, Ivy League grad students to Hollywood celebrities, have one thing in common. They have a life coach who works with them on a regular basis to achieve their goals. Sounds expensive, but it doesn't have to be.
Like so many people today, you have reached a roadblock in the journey toward your goals, and just cannot seem to move to the next level in work, hobbies, or life. You've tried visualization, meditation, or conventional therapy and nothing has helped you move past where you are today. If you are ready to achieve permanent change and take your life to the next level, Laura King's Perfect Enough Life Coaching Program is the answer. Laura's one-of-a-kind life coaching process is tailored to your specific goals, and is designed to help you:
Get to the root cause of what is blocking your progress, and release these triggers that hold you back at a deep level. These may be imprints from parents, teachers, relatives, friends, relationships, coaches or events in your life.
Create a map of your future.
Achieve your goals in manageable steps.
Using her proven methods, Laura King, CHT, NLP & Life Coach, will customize a program to suit your personal, professional, learning and/or athletic goals. The process begins with a brief written questionnaire, followed by one-on-one sessions with Laura, either in person or by phone/Skype, to uncover your key triggers, issues, and objectives. Together with Laura you will create a precise program that is tailored to suit your specific needs.
Laura's Perfect Enough Life Coaching Program is centered upon a partnership that involves working together on your needs, wants, goals and vision. The process entails facilitating action plans and commitments, overcoming obstacles, and progressing in the direction of achieving a successful and fulfilling life. Laura will lead you on a path of study and self-discovery that will help you establish realistic goals. She will then work with you to create the behavioral changes necessary to achieve your goals.
All behavioral change takes place at the subconscious level – people don't change consciously. Your subconscious stores your memories in a "Time Line". This is how you unconsciously know the difference between a memory from the past and a projection of the future. Using a combination of Time Line Therapy™, Hypnosis and NLP (Neuro Linguistic Programming), Laura works with you at the subconscious level to release the effects of past negative experiences and quickly change the inappropriate or negative programming that is holding you back. This work will free you of your past, and help you create the future you desire.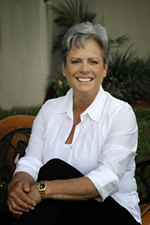 The Perfect Enough Life Coaching Program includes all of the tools you need to map your future. Making dramatic life changes is not something that is done "to" you; it is a cooperative guided process in which you are given step-by-step direction to create the change you desire. After each session with Laura, you will be given "homework". Laura calls this The Discover Process.
Through the use of The Discover Process, you will work on the eight key areas of personal development to create the outcomes you desire. The Discover Process helps you make action plans and commitments, overcome obstacles, and move forward toward achieving the successful and fulfilling life of your choice. Each "homework" lesson includes paperwork that only you can fill out, and a self-hypnosis CD from the Perfect Enough Series, that supports the area of personal development you are focusing upon.
At the appropriate time during your progress, you will also be given a Positive Outcomes Chart and the Discover Process Progress Chart. These charts will help you map out your desired outcomes and plan your long-term goals, mid-term goals and shorter-term goals, allowing you to create a road-map to your ideal future. During your next sessions, Laura will use this road-map to guide your subconscious mind with Hypnosis and NPL to change old behaviors and habits into ones that are conducive to the life that you want to live. Following your new road-map to success will become second nature as your subconscious mind sees it as already done!
Throughout this process Laura will provide encouragement, support, guidance, motivation and commitment to help you lead a balanced, complete and fulfilling life. This is all part of the Perfect Enough Life Coaching Program. Imagine having Laura's expertise available to you whenever you need it! This personalized investment is the ideal way to bring about the positive changes you envision in every aspect of your life.
You have the potential to transform your self-image, increase your income, strengthen your self-confidence or simply get a good night's sleep. It is within you to perform better, to learn better, or to test better; anything is possible. That power is your subconscious mind. By programming both the conscious and subconscious mind, you are able access 100% of their brain's power. This breakthrough in self-development allows you to master and maximize each action plan effortlessly and automatically.
Unleash the power of your subconscious mind to change your behaviors, manage stress, eliminate fears, increase self-confidence, eliminate bad habits and create positive ones, and improve your performance in all areas of your life.
Call 561.841.7603 to for more information!