The Body Practitioners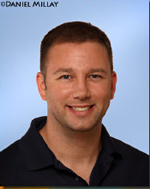 Robert Patrick Howe
Robert has been an active healer for over 15 years. Robert worked as a massage therapist and energy healer as a certified practioner in Pennsylvania both in private practices and with local businesses. Robert acquired the ability to bring energy healing into his massage work from an early age. Thus, allowing for a deeper restorative experience.
Robert also has extensive experience working with athletes. He has worked with several different amateur and professional athletic teams including the Philadelphia 76ers (Basketball), the Philadelphia Flyers (National Hockey League) and the Adirondack Phantoms (American Hockey League). Robert was there to support the team members with any physical or medical problems that could be assisted through massage body work.
In 2007, Robert moved to Palm Beach Gardens, FL with his fiancee, Stacy (who is an esthetician). Robert continued with his training working with the Upledger Institute on CranioSacral work as well as with the Palm Beach Academy. He also became Nationally Certified through the NCTMB and licensed within the state of Florida. Robert continues to work on his professional development as he recognizes that a therapist's learning never ends.
EDUCATION
Matrix Energetics Training with Richard Bartlett
Feburary, 2010
Palm Beach Academy Massage- 500 Hours
Lake Park, FL
August 2009-November 2009
Upledger Institute CranioSacral I, II, SER 1, SER2, ADV 1, CCPS
Palm Beach Gardens, FL CES, CVS, TCSI
2001-2009
New York Institute of Integrative Nutrition Certified Holistic Health Counselor-160 Hours
NY, NY
04-05
Valley Forge Institute of Muscle Therapy Massage- 525 Hours Valley Forge, PA
1994
HONORS & ACTIVITIES
Traveled through Europe to pursue alternate therapies and healing modalities.
1995-1997  
Volunteer work in Panama, Central America with CranioSacral Therapy sessions for people of limited resources
2008-2009